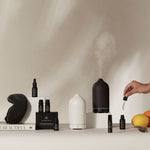 Give the Gift of Sleep This Festive Season 
As we shimmy on into the festive season, sometimes it can feel like an impossible task to nail everyone's Christmas gift..... Particularly our older family and friends who are still working through the mugs and candles you got them last year! In an effort to avoid the shopping scramble and eliminate the stress of getting together, why not make 2020 your most thoughtful year of gift-giving with the help of our sleep hacking, Christmas gift guide:
Gifts for Your Stressed Loved One 
We're certain that we can speak for everyone when we say that 2021 has been a stressful year. While it's presented us with the opportunity to change our perspective and appreciate some of the smaller things in life, most of us are looking forward to the fresh slate that the Christmas season and New Year bring.
Under $30 – Calm Drops
If you're gifting full-time workers or parents, you could help fast track their seasonal wind-down with some of our favourite stress focused products like our hand-bag essential Calm Drops, designed to settle a busy mind and invite relaxation to the core.
Under $50 – Wake Energised Kit
Know a stress-head that overthinks at all hours? Help drive a routine and guide a healthy transition between night and day with our Wake Energised Kit!
Under $100 – Calm On-The-Go Kit
Perhaps you have a loved one that needs a little more help when it comes to de-stressing in the office? During these times, it's important to calm your nerves and reduce stress so you can focus your mind on completing your work. Our Calm On-The-Go Kit provides everything they'll need to find their zen!
 Top Sleep Aids for Insomnia
With 60% of Australian's reporting bouts of insomnia at some point in their lives, there are fairly good odds that a sleep focused Christmas gift could prove life-changing for your loved ones.   
Under $30 – Deep Sleep Drops
If you've ever overheard a friend or family member talk about a poor nights sleep, our Kris Kringle budget-friendly Deep Sleep Drops are the PERFECT sleep-promoting gift to help encourage a smooth nights sleep.
Under $50 - Deep Sleep Kit 
If you're feeling extra thoughtful, why not level up your Deep Sleep Drops by gifting our entire Deep Sleep Kit which also includes our Goodnight Essential Oil Roll-On and aromatic Sleep Mist.
Under $160 - Diffuse and Snooze Kit
Know a busy, sleep-deprived soul facing frequent bouts of insomnia? Gift them our Diffuse and Snooze Kit and help transform their room into a tranquil sleeping sanctuary, including our best-selling Ceramic Diffuser, Deep Sleep Drops and Goodnight Blend Purse Essential Oil!
Gifts for Night Shift Workers
Night shift workers often experience higher demand for hours over Christmas as they work towards festive deadlines like stocking food shelves and delivering parcels!  

Under $30 – Morning Drops
Sneak in an early gift this year by helping your shift working family and friends get the most out of their day with our refreshing Morning Drops.
Under $70 - Silk Sleep Mask 
Sleeping hours all over the shop? A Silk Sleep Mask is the ideal sunlight blocker for those getting their zzz's during the day, (it also helps prevent wrinkles and moisture absorption preventing dull, dry skin)!
Under $100 - Day to Night Kit
With strange working hours often comes strange sleeping schedules! Cue our Day to Night Kit which offers an all-round AM pick-me-up to PM unwind for anyone seeking natural assistance between both night and day.
Support Sleep Deprived Parents 
New parents can sometimes miss out on personal gifting as gift-givers default to baby presents over the Christmas period.  

Under $40 – Sweet Dreams Sleep Mist
For the perfect, I'm thinking of you gift, reward your sleep-deprived parents with our Sweet Dreams Sleep Mist, bringing harmony and balance to the bedroom. It contains cedarwood, frankincense and geranium to soothe away stresses combined with lavender, chamomile and sweet orange to calm your body for sleep.
Under $70 – Drops Trio Kit
If a babysitter or an at-home spa day is out of the question, give the gift of ease this season with our cult favourite, Drops Trio Kit. The perfect sleep routine assistant, our Drops Trio Kit comes with three 20ml droppers of our best selling formulations including our kick starting Morning drops, mid-day Calm drops and restorative Deep Sleep drops.
Under $150 – Ceramic Essential Oil Diffuser  
And, of course, for that perfect 'couple goals' gift, we can't go past our Ceramic Essential Oil Diffuser which helps busy parents get their serving of set and forget aromatherapy!
Under $200 - Ceramic Essential Oil Diffuser Starter Kit which includes 3x best selling 100% Pure Essential Oils!
Don't forget to add your favourite 100% Pure Essential Oils to the cart, or take the fuss out of choosing with our essential included- Ceramic Essential Oil Diffuser Starter Kit!
Get it in time for Christmas! Shop now.