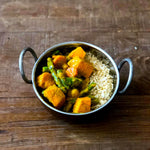 This week, we reached out to qualified Naturopath, Western Herbalist and Aromatherapist, Jen Cox to find out how she spices up her mid-week meals. When you're short on time, or even just prioritising sleep (yup, that should be you!), this gluten-free, anti-inflammatory vegan curry should be on your go to.
Hi guys, I'm Jen and ghee, do I love Indian food. I also have an enormous sweet potato chip on my shoulder about Australians not eating their veggies, since 4 in every 5 Aussie adults don't meet the minimum amount required for health per day.  Yes, that many! Oh dear. Couple this with our busy modern lifestyle (slathered in stress and draining of nutrients) and I strongly believe that many health issues we collectively experience are connected to nutrition.  This includes adequate and restful sleep.
Since it's time we all up our vegetable intake, signs point to this vegan curry becoming the latest feature in your weeknight rotation.  You can gain at least 2 serves of vegetables per plate which is close to half of your daily minimum.  It has oodles of fabulous superfoods for antioxidants, inflammation and detoxification and the dairy free aspect is also very useful if you're keen to decongest rather than murder the snorer in your life… Shall I go on?
A note on the structure:
This recipe is designed to flow with your schedule. While the spices are specific to some key anti-inflammatory and immune herbs, the veggie portion is deliberately vague. Work with your own fridge contents and tastes, avoiding unnecessary food wastage or a trip to the shops.
If you're after inspiration, some recommendations to include are:
Orange vegetables like carrots, sweet potato or pumpkin have potassium for better sleep and antioxidants for detoxification;
Green beans or peas which are high in fibre and magnesium for muscle and nervous system relaxation;
Leafy greens such as kale or spinach, which have loads of calcium and other great things needed for sleep;
Chickpeas and brown rice for their Vitamin B6 content, a key to regulating sleep hormones.
Anti-Inflammatory Vegan Curry (GF)  
Serves 4
Ingredients
½ tsp each of: powdered turmeric, ginger, garam masala, ginger and coriander
1 tsp each of: powdered garlic and cumin
¼ cup tomato passata
¼ cup coconut cream
1 cup coconut milk (you can use almond or a blend of the two if you like: whatever you have to hand)
A handful of cashews, soaked and drained
½ onion, diced
1 tablespoon of coconut oil (or ghee if you aren't die hard dairy-free)
400g of cooked vegetables and chickpeas (steamed, baked or a combo of both)
Brown rice, chilli and coconut yoghurt to serve
 Method
Melt your coconut oil or ghee in a pot, adding the powdered spices and onion to cook for a few minutes. The aroma will be heavenly, and this allows the spices to do their thing and develop.

Pour your cashews, coconut cream, milk and tomato passata into a blender and blitz until smooth, then add to the pot.

Simmer gently and stir occasionally for around 20 minutes. You'll end up with around 300ml of luscious creamy sauce.

Now you can add your cooked veggies and stir through till warm.

That's it! Serve with Vitamin B6 rich brown rice and fresh chilli if you fancy, and/or a dollop of coconut yoghurt. Voila!
About the author:
Jen is a qualified Naturopath, Western Herbalist and Aromatherapist. By day she's the Naturopath for Greene Street Juice Co and PONO Probiotics, by night she creates things. This is mostly content and recipes, though twice now she's built lovely little boys.
Want more? Find more sleep friendly recipes here.