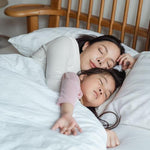 At The Goodnight Co., we encourage and understand the importance of a good night's sleep for everyone, but more so for our little ones! Kids who get the recommended average sleep of ten to twelve hours have improved learning and better physical and mental health. 
But sleep is usually the last thing on their minds! Cultivating a consistent and calming routine can help their sleep schedule. Essential oils are a great, natural way of assisting with better sleep and boosting their overall mood. 
But how to decide which one is right for your child? Here are the different types of essential oils and how they suit your child's individual needs. 
1. Lavender Essential Oil for Common Cold
We're sure you must have heard of lavender already! It is a very popular floral oil, and for good reasons. Known for its gentleness and zen-like properties, it is an excellent choice when your child has a mild cold or is feeling restless. 
2. Roman Chamomile Essential Oil for Insomnia and Colic
Also known as the sleepy herb, the name suggests its soothing qualities. Chamomile is really beneficial when your child has a disrupted sleep schedule or has trouble falling asleep. 
3. Sweet Orange Essential Oil for Uplifting Your Child's Mood
Not to be undermined as simple citrus oil. Sweet Orange is a two-in-one solution. It helps calm the mind while also promoting a positive mood for your child.
4. Frankincense Essential Oil for Anxiety
An all-rounder of sorts, Frankincense is often known as the king of oils for its many strong benefits. It can help relax a child's mind, reduce anxiety, and also has anti-inflammatory properties.
5. Sweet Dreams Essential Oil 
Saving the best for the last! This unique blend is created especially for your little ones to create the ultimate sleep sanctuary. The blend helps to reduce anxiety and prepare your child for sleep. 
How to Safely Use Essential Oils Around Kids
Now that you're covered on the different kinds of oil that are beneficial for kids, let's dive into how you can safely use essential oils for kids. 
Because babies and toddlers have very sensitive skin, essential oils can be too strong for their skin. While not all essential oils are suitable for children, all of The Goodnight Co. Blends are kid-friendly and safe for children. We recommend diffusing the essential oils using our ultrasonic diffuser that does not use any heat or open flames. 
Please do note that the above advice is of general nature. If you have serious concerns about your child's sleep, we strongly recommend discussing it with your healthcare professional.