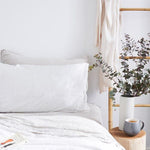 Move over juices... there's a new cleanse in town!
We're taking Australia's 66-billion-dollar sleepiness epidemic head on, with our holistic, expert-led guide to sweeter slumber: The Goodnight Co. Sleep Cleanse.


What exactly is Sleep Cleanse all about?
We developed Sleep Cleanse with a team of psychologists, dieticians, holistic nutritionists and stress consultants to help improve your relationship with sleep. The Cleanse comes packed with:
the latest science
mindfulness tips
dreamy recipes
ways to improve your gut health for better slumber
steps for creating your very own sleep sanctuary
bonus meditations

We've also got media mogul and author of The Sleep Revolution, Arianna Huffington right alongside us at the forefront of the battle against sleepiness. Arianna explains, "The Goodnight Co.'s Sleep Cleanse book is a wonderful resource with experts talking sleep, anxiety, mindfulness and nutrition to help women reclaim their sleep and recharge."
Why we made Sleep Cleanse
If you've ever had a sleepless night (or many!), you'll know that you're definitely not at your best the next day. But the dangers of not getting enough sleep is more than just feeling grumpy and tired. Research has shown that there is a strong connection between poor sleep and essentially every mental illness, as well as poor immune health and obesity, cancer and Alzheimer's disease. And, with the rising sleepiness epidemic, one Australian dies every day from a sleep-related car or industrial accident.

This has inspired us at The Goodnight Co. to take action. Leading the charge is co-founder Shea Morrison who says: "As women in our 30s, we saw so many of our friends and family lose their way with sleep due to stress, health issues or the arrival of a new baby. Determined not to lose our way with sleep, we set out to find evidence-based tools to help us not lose our way with sleep, and we want to share those with more women."

With our health, our economy and our very lives on the chopping block, it's certainly time we all start prioritising our sleep. And Sleep Cleanse is designed to help us all do just that!
How do I do the Sleep Cleanse?
The Cleanse is designed to make things as easy for you as possible. You can grab your copy of Sleep Cleanse online, and start right away! You can read through the Cleanse at your own pace and begin making changes to your life when you feel ready. 
The Goodnight Co. Sleep Cleanse ebook is available for $19.95 here.