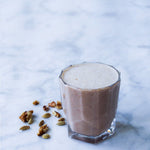 If you're looking for the perfect little nightcap to send you off for a restful and restorative sleep, then this Sleepy Time Chai Smoothie might just be what you need! This smoothie contains banana's which are rich in magnesium and potassium, both fantastic muscle relaxants. The combination of nourishing spices are both warming and act as natural carminatives - great for allowing the digestive system to relax at bedtime.
Nuts are also a rich source of melatonin - another amazing sleep nutrient and of course, this smoothie wouldn't be complete without The Goodnight Co.'s
Deep Sleep Supplement Powder,
which has a combination of natural amino acids, specially formulated to aid uninterrupted sleep and to build regular sleep patterns.
Serves 1-2
Ingredients
1 cup unsweetened almond or coconut milk (or any nut milk of your choice)
1 chopped frozen banana
1 teaspoon ground cinnamon
1/8 tsp ground cardamom
1/8 tsp allspice
1/8 tsp ground ginger
1 tbs collagen hydrolysate powder (optional - omit if vegetarian/vegan)
1 tbs almond butter
1 tbsp crushed walnuts or almonds
Method
Combine all of the ingredients in a high-powered blender until smooth. Enjoy! 
About the contributor
Stephanie Hinton is a qualified naturopath with a passion for wholefoods and a holistic, balanced approach to health. Stephanie has been practicing her message in the wellness industry for the last five years, working both as a naturopath, whole food caterer and a recipe developer. Her innate ability to combine functional whole foods and traditional herbal medicine has seen her help many people find balance, alleviate health concerns and come back to their natural state.
To book a consultation, download some free resources or join Stephanie's Body Alignment Bootcamp, head to Stephanie's website
here
.