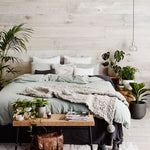 You spend almost a third of your life tucked up in bed, so your bedroom should be a sleep sanctuary; a place you love to spend time. Along with looking beautiful, adding greenery to your bedroom can create a more peaceful space that enhances relaxation and calmness. Cue
IVY MUSE
! 
Launched in 2014,
IVY MUSE
is the brainchild of Jacqui Vidal and Alana Langan. Driven by a commitment to encourage creativity with greenery, IVY MUSE design functional plant stands and botanical wares that amplify plant-life within a space. Big advocates of aromatherapy ourselves, we love the idea of greenifying our bedrooms with creativity. It's a plant lovers dream! We also acknowledge the many health and sleep benefits associated with plants around the bedroom, and house. We reached out to the wonderful combo that is IVY MUSE, to get the inside scoop on everything sleep, and everything green. 
Tell us about IVY MUSE and how it all began?
Jacqui: IVY MUSE is all about considered, functional plant stands and botanical wares that help encourage people to get creative with their greenery. Our products are designed to allow maximum flexibility in the many ways they can house plants and are suitable for a variety of pot sizes and shapes, so there's no hard and fast rules about what suits them.
Alana and I had been knocking about ideas to collaborate together for a while, when we came up with idea for IVY MUSE, it just clicked for both of us. We're both a little green-thumbed and at the time were both facing limitations on outdoor space in our homes so we were keen on the idea of getting creative with bringing greenery indoors.
Which plants should we be keeping in our bedroom for a good night's sleep, and why?
Jacqui: Studies have shown plants can offer us so many benefits including cleaner air and decreased stress levels, plus they can also help boost our creativity and memory retention; and if that wasn't all, they're damn pretty. Choose any plant you'd like to wake up to!
The Goodnight Co. recommends:
English Ivy
A study by the American College of Allergy, Asthma & Immunology reported English Ivy removed 94% of airborne faeces and 78% of airborne mould in just 12 hours. So, if you suffer from allergies, stocking up on some of these beautiful plants could keep your sneezing at bay overnight. 
Mother in law's tongue
Not only does this glossy-leaf plant emit oxygen through the night while taking in carbon dioxide but it also filters nasty common household toxins, like formaldehyde, trichloroethylene and benzene, from the air says The Joy Of Plants.
Peace Lily
The Peace Lily is a bit of an all-in-one plant both purifying the air by removing toxins and increasing the humidity of the air which could help reduce allergies and ease dry throats or sinus problems, thus helping you to drift off trouble-free.
Aloe Vera
NASA
named Aloe Vera as one of the best plants for air purification in their study, releasing oxygen throughout the night. The bonus is that these plants are also super easy to look after – which means more time for sleeping.
As Co-Founders ourselves, we loved the idea of starting our business with a friend – what's been the best part of sharing this journey with someone?
Jacqui: Alana and I had been friends for over ten years before we started IVY MUSE together. Being such good friends means everything is laid out plain and simple; there's no second guessing each other and we're very like-minded in a lot of things, which comes in handy. The best part is being able to hang out with our bestie most of the day and call it work; plus of course being able to share the highs - and lows!
What's next for IVY MUSE?
Alana: This Spring has been really exciting for IVY MUSE. We launched our latest collection LUCID FIELDS with a load of beautiful new pots and botanical wares made right here in Melbourne, plus we're soon to launch another exciting piece in the coming weeks (watch this space!). We've also got a few exciting collaborations in the pipeline. The year ahead is definitely going to be a big one!
What's the best advice you've received?
Alana: Things are not always as they seem.
Do you have a night time ritual to help you wind down after a busy day?
Alana: Usually jumping in our outdoor hot tub and watching the stars.
What are you currently reading/listening to/watching?
Alana: Having a Phil Collins moment actually! 'In The Air Tonight'... what a classic. And re-reading one of my favourite books: 'Clean' by Alejandro Junger. Worth a read if you're into health and nutrition!
What's on your bedside table?
Alana: Artwork and hand-picked flowers from my kids.
If you love the beautiful IVY MUSE much as we do, you can head over to their website here or soak up more inspo on their Instagram here. Or discover more of our Sleep Tips here.