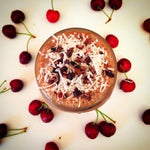 Do you love indulging in sweet treats before bed, but don't want the sugar keeping you up all night? Jordanna Levin of The Inspired Table has created a healthy sugar-free Cherry Ripe Smoothie. Not only does this smoothie taste exactly like your favourite chocolate bar, but it helps you sleep.
A study conducted by University of Texas Health Science Center found that cherries contain the highest level of melatonin in any food, and are sure to help and regulate sleep. For the best result consume cherries one hour prior to sleep.
We know what we'll be whizzing up this cherry season!
Cherry Ripe Smoothie
(sugar-free, vegan, dairy-free)
Serves 1
Ingredients
The water and half the flesh from 1 young coconut (or packaged coconut water, if you prefer)

½ cup almond milk (Jordanna recommends homemade or cold-pressed)

1 tablespoon gelatin, optional

1 tablespoon raw cacao powder

¼ avocado

½ small frozen banana

10 pitted cherries

1 teaspoon maca, optional

1 teaspoon magnesium, optional

½ teaspoon vanilla powder

Shredded coconut and cacao nibs, to garnish
Method
Pop all ingredients in a blender and blend until smooth.
Check out more recipes for a good night's sleep.