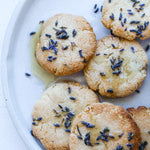 The beautiful Steph of The Remedy Kitchen has whipped up a very special treat for us – and it doesn't involve loads of mixing bowls and fuss. These delicious little biscuits are also low in sugar, so you won't feel all buzzy before bed. The best part? She's included lavender. Steph says:
This botanical is all kinds of witchy magical. Lavender has been used anecdotally by our ancestors for generations. Now, due to increased popularity of essential oils and alternative medicine, lavender has made a comeback. Early research and studies on the efficacy of lavender for sleep and nervous system support have shown promising results. But studies are studies – try lavender for yourself in essential oil form, steeped in tea or like this in cooking and notice how relaxed you feel.
A note: Steph does not support nor recommend the ingestion of essential oils so please opt for a steeped lavender tea or essential oils used externally instead.
Chewy Lavender Biscuits with Lavender Honey Syrup
Makes 9 biscuits
Ingredients
1/2 cup coconut cream
4 tsp dried lavender (from a teabag or better yet, in whole bud form)
2 cups almond meal
2 1/2 tbs maple syrup or rice malt syrup/honey
1/2 tsp baking powder
3 tsp coconut oil
Method
Place the coconut cream and 3 teaspoons of the dried lavender buds into a small saucepan. Simmer for 5 minutes, ensuring the mixture does not boil or burn. Strain the mixture through a sieve ensuring you leave the lavender buds in the sieve and just use the coconut milk. 
Preheat the oven to 180°C/160°C fan-forced. Line a baking tray with baking paper. In a small bowl combine the almond meal, 2 tbs of maple syrup, baking powder and the steeped coconut milk. Stir to combine. Persevere with stirring until the mixture forms a slightly wet dough like consistency (it may seem a bit dry at first). Scoop tablespoon amounts of the mixture onto the lined tray. You should get 9-10 biscuits. Gently flatten them into circles with your fingers. Bake for 15 minutes, or until lightly golden - but watch you don't over cook them otherwise they will dry out. Remove them from the oven when the edges are cooked and the centre is still slightly soft (this is where the chewy bit comes in). Allow the biscuits to cool on the tray for a few minutes and then transfer them to a cooling rack.
To make the optional syrup: Place 1 tablespoon of maple syrup (or rice malt syrup/honey), the remaining 1 teaspoon of lavender buds and the coconut oil in a saucepan. Bring the mixture to a bubble and stir until combined. Remove from the heat.
To serve, place the biscuits on a plate and drizzle over the lavender syrup. Enjoy.
Find more of our Sleep Eats recipes to help nourish your body and rest easy.