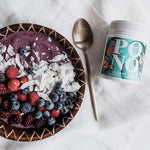 Start your weekend right with a delicious and healthy PONO Probiotic Smoothie Berry Bowl! Packed full of nutrients and essential probiotics, this recipe is perfect after waking up on one of those summer mornings. Guaranteed to start your day with a spring in your step, this recipe is not only easy to prepare - but also very Insta worthy!
Ingredients:
1 cup organic frozen mixed berries
1 frozen ripe banana, roughly chopped
2-3 Tbsp vegab milk or coconut water
1 scoop plain or vanilla protein powder of choice* (optional)
1 scoop

PONO probiotic powder

 
1 Tbsp shredded unsweetened coconut 
Sliced fruit
Granola (optional)
Hemp seeds (optional)
 Just blend until smooth. 
Pour into your favourite bowl.
Top with your favourite toppings.
Enjoy!