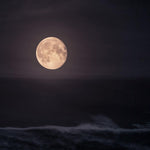 We can taste our tears with this full moon in Cancer!
In light of the recent devastation the up and coming lunar eclipse will highlight the importance of radical accountability for our collective actions and urgent humanitarian care for our planet. 
Lunar Eclipse / Full Moon Cancer 20 degrees 
AEST Brisbane 11th January 2020 5:21am
ADST Sydney / Melbourne 11th January 2020 6:21am 
AWST Perth 11th January 2020 3:21am
UT London 10th January 2020 7:21pm 
EST New York 10th January 2020 2:21pm
The first full moon for 2020 is the cardinal water sign of Cancer, governed by its natural ruler, the feminine moon. 
Key themes: water realm; attuned to the environment; nurturing energy; family, home & well-being; sentimental reflections; inter-generational memories / healing; extreme sensitivity and psychic awareness; emotional patterning – reaction and response.
Cyclic in nature, the moon embodies the feminine, emotions, dreams, sleep, fertility, hormones, menstruation, intuition, creativity and the subconscious. 
This immense power of nature influences our physical, psychological, physiological and spiritual well-being each lunar cycle, especially around the full moon and eclipse periods.
Our circadian rhythm is regulated by light therefore the phenomenon of the full moon affects human behaviour.   This full moon hangover can contribute to lethargy, sleep disturbances and insomnia.  Paradoxically, it is also a time of heightened creativity, liveliness, sociability and lunacy.
Scientific studies called the lunar effect have shown that when the moon is full, we  experience decreased levels of melatonin, a hormone that assists our sleep and waking cycles; the ability to fall asleep, stay asleep and have a good night's rest.
The lunar effect can trigger unpleasant dreams or nightmares subconsciously relating to unresolved issues albeit through life, finances, relationships, family, health and social concerns.
"I dreamt last night that there were honeybees in my heart making honey out of my old failures." ~ Antonia Machado
Some of us are more sensitive than others so the effects do depend on individual and personal patterns. When we are in a state of unease it is important to use relaxation techniques to overcome anxieties, worries and fears, to calm the mind and provide mental support alongside emotional comfort.  If the fear comes up, meet it, befriend it.  Throughout this bio-psychic experience the transformative process to turn fear into creativity within our human consciousness can maximise positive well-being.
We also have a dynamic stellium in Capricorn – South Node (intense karmic release), Jupiter (truth), Sun (identity), Mercury (communication), Saturn (established structure), Pluto (power/rebirth).  A powerhouse of immense pressure, these planets are charged with dismantling the old fear based systems that no longer serve us.
This weekend, collective groups are offering global meditations to focus on connection alongside future possibilities for the way forward.
"There is a revolution that needs to happen and it starts within each one of us.
We need to wake up and fall in love with the Earth.
Our personal and collective happiness and survival depends on it."
Thich Nhat Hanh
Sending love and heartfelt practical support at this time to all those affected by the fires.
For support at this uneasy time, you may like to try our Calm Tea & Magnesium Oral Spray. Baths also work wonders for the nervous system; our Goodnight Bath Bomb is naturally formulated to promote relaxation or try adding 10 drops of the Calm Essential Oil to a warm bath. View The Moon Edit for all the products to support you during this lunar phase.
From Tuesday 7th until Sunday 12th Jan, we will be donating 100% of our online sales to a fire affected family to help them rebuild their home.
If you would like to donate directly to any of the many organisations working to make a difference, here are three we'd like to highlight:
Wildlife Emergency Fund – Wildlife Rescue
Australian Red Cross Lifeblood – Blood Donations
Mikailah is an astrologist, star witch and earth poet who embodies ancient practices in a contemporary form.  Her transpersonal work speaks to the artist, the creative, the free-spirited entrepreneur and the visionary.  Mikailah offers a unique fusion of astrology by video call for our global community.
Find out more at https://www.starwitchastrology.com/work-with-me/