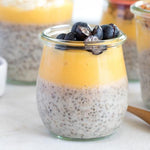 We have another recipe from the wonderful Nadia Felsch, nutritionist-to-be, whole foods expert and magazine columnist.

This chia pudding is a seasonal favourite that's the perfect tote-to-work breakfast or after-dinner snack. It's refined sugar free, with the only sweetness coming from fresh fruit, and is packed with vitamins and fibre. Also, chia seeds contain tryptophan, a precursor of serotonin (aka the chemical that boosts your mood and helps to increase and regulate melatonin, the sleep hormone.)

If you love Nadia's Mango Chia Puddings as much as we did, you might like to try her Asian Chicken + Mango Salad, or take a look at her other speedy and delicious recipes on her blog. 
Mango Chia Pudding
Serves 6
Prep:
10 min
Cook:
8hr 10min
Ingredients
Pudding:
½ cup chia seeds (70g)
2 cups almond milk
¼ teaspoon vanilla powder / (½ teaspoon vanilla essence)
2 large bananas (260g)
Fruit:
Flesh of 1 mango
¼ cup almond milk
Optional fresh fruit/muesli to serve
Method
Combine all pudding ingredients either in a bowl or blender.
Mix well and pour into individual jars, cups or bowls.
Place all pudding cups into the fridge to begin setting.
Combine mango and milk in a blender and pour on top of all pudding cups.
Set overnight.
Serve with optional fresh fruit and muesli.
Browse our Sleep Eats recipes to nourish your body and rest easy.