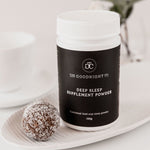 We teamed up with Valeria from The Well Nest to provide you with the recipe for these beautiful Lamington Bliss Balls. The Well Nest is a hub for all things tasty, healthy, sustainable and aspirational - and like us, Valeria has a very special dream journey that began with a love for nourishing her body. These scrumptious bliss balls are made even better with the addition of our Deep Sleep Supplement Powder - making them the perfect before-bedtime treat!
Makes 20 balls | Prep time: 15 minutes | 30 minutes refrigeration 
Ingredients
Base
1 cup macadamias
1 cup shredded coconut
1/4 cup almond meal
2 tbsp raw honey*
1 tbsp coconut oil
1 tsp vanilla essence 
Coating
1/4 cup coconut oil
1/4 cup cacao powder
1 tbsp raw honey*
desiccated coconut for coating
Method
Add all ball ingredients to food processor and blend until a crumbly fine mixture.
Roll into 20 cent size balls and place on a tray with baking paper. 
Pop into the freezer and let harden for 20 minutes.
In the mean time make up the chocolate coating by heating the coconut oil in a saucepan on low heat until melted.* 
Whisk in the honey to the coconut oil until dissolved, then stir in the cacao until well combined.
Once balls are set, coat them in the chocolate mixture, roll in shredded coconut and place back on the tray to go back into the freezer to harden.
After 10 minutes, bliss balls will be ready to serve.
You can store these in the fridge for 2 weeks or in the freezer for 6 months. 
Note:
*Even if the coconut oil is melted, you still need to warm the coconut oil so it's easy to dissolve the honey through
*You can substitute pure maple syrup in replacement of honey to make vegan