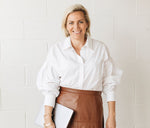 "HELP! I can't sleep!"
Do you... 
Struggle switching off?
Have trouble falling asleep?
Wake up all night long?
Have daytime fatigue? 
Have bedtime anxiety? 
Wake up feeling sluggish or unrefreshed? 
Feel like you've tried

everything

?
If this is you, The Goodnight Co. is here to help - in a more personal way than ever! We've always been here on your journey to better sleep.
But, if you need a little more personalised guidance and accountability to help you, The Goodnight Co.'s Co-Founder and Resident Sleep Expert, Shea Morrison, is answering all your sleep prayers.
Introducing: Sleep Consults with Shea! Shea's here to help you reach your sleep goals, and will go on the journey with you so you can rise and truly shine. 
About Shea
Shea started her career in Media, Radio and Marketing and led a busy life. Her days were filled with calendars, meetings and a whole lot of coffee. 
Then she had kids - Molly and Max, and everything changed. Her priorities and life shifted when she became a Mum. Shea learned very quickly what she needed more of (and what she couldn't live without). And that was very simple: SLEEP!
Shea's passion now lies in creating better days, through better sleep. 
Her passion for meaningful rest and connection is now what guides her life, not only for herself, but so she can be the best version of herself for everyone in her life. 
Shea realised a fundamental difference in the relationship with sleep we create for our children and the relationship with sleep we have ourselves.
We dedicate time and space to create consistent sleep routines and practices for our children, winding them down and settling them into sleep. At what age do we stop doing this for ourself? 
Fast forward 9 years, thousands of research papers, sleep workshops and podcasts, Shea's now dedicates her time to helping anyone struggling with sleep to reclaim their best self - through something as simple as consistent, deep sleep.
Why A Sleep Consult? 
There is a very simple truth when it comes to sleep: it is literally life-changing!
As the third pillar of health, sleep is just as fundamental to our overall wellbeing as nutrition and fitness (if not more!) However, sleep is often the pillar where we fall short. If you're struggling to eat well or not feeling like your fittest, healthiest self, you seek out a dietician or PT. Why should sleep be any different? 
The reality is, most of us don't get enough quality sleep - and don't dedicate much time or space to fix this! Our increasingly high-stressed, caffeine-fuelling and time-poor lives are only impacting our sleep further.
Don't pay the price for poor sleep any longer! 
Good sleep is within your control. And often only requires a few small, simple and consistent lifestyle changes. 
Shea is here to help! Shea's consults will create a personalised sleep routine that works for you and your sleep goals. There is no point in starting a routine that you can't implement into your lifestyle - which is why your sleep is personal. 
Shea will assist you with creating a sleep routine that you can stick to, and that will fit seamlessly into your life. She will keep you accountable as you implement it over a 30 day period so you can experience the life-changing power of quality sleep. 
In your consult you will: 
Review your lifestyle factors and current sleep routine to understand what may be impacting your sleep negatively. 
Set a sleep schedule
Create an achievable and personalised morning and sleep routine considering your lifestyle and individual factors
Set a measurable sleep goal for review in 30 days 
Learn the basics of sleep tracking for accountability 
Get 1-on-1 sleep coaching and advice from our expert
Option One: 15 Minute Sleep Consultation $40
What's included?
15-minute sleep routine consultation valued at $40
Redeemable on any of The Goodnight Co.'s products
Custom personalised Sleep Routine curation
Sleep routine 30-day tracking tool
Option Two: The Sleep Series (3 x 30 min Consultations) $150
What's included?
3 x 30-minute personalised Sleep Routine Consultations for $15
Sleep routine 30-day tracking tool
Ebook for better sleep, including recipes, stretches, tips and more
1 consultation weekly for 21 habit-forming days:
Step 1: Create a custom Sleep Routine and commit to tracking your sleep
Step 2: Accountability check-in and routine adjustments
Step 3: Sleep Routine review and continued support
Are you ready to create a better life through better sleep? 
Book your consult with Shea now!