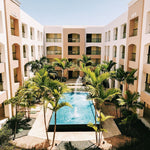 Holidays are a joy – whether you're heading to a tropical paradise or to a cabin in the snow. There's just something special about being in a new place, seeing everything with fresh eyes and, of course, not having work to worry about! 
But what about sleeping on holidays? We're often out of our regular routine, overindulging in food and drink, and in a new sleep environment. The first few nights can be a little restless in a new place, especially when you're jetlagged!
So, because holidays should be all about relaxing and enjoying yourself, we've come up with some tips to keep your good sleep habits on lock as you globetrot.
Not only is your Silk Sleep Mask your #1 travel accessory, it's an essential thing to keep handy when you arrive at your destination. You never know how much light is going to be outside your new bedroom window, so using a sleep mask is one way to ensure you have a little bit of control over your sleep sanctuary. 
2. Order from the pillow menu.
Many hotels these days have pillow menus, where you can choose from a range of pillows for a dreamy night's sleep. This is an especially good idea if you've had a restless journey, or if you'll be staying in the same hotel for a while. Having the right pillow for you will do wonders for your snooze time!
3. Make a soundtrack for your slumber
With a sleep mask, you're in control of the light in your room... but what about the sounds? If you're not lucky enough to be falling asleep to the sound of waves crashing on the shore, try out a pink noise app like Insight Timer or kalmmind. Or, if you'd prefer to block it all out, a pair of ear plugs are a great and lightweight option to tote with you on your travels.
4. Bring your own pillowcase.
There's something comforting about having a little something from home with you as you travel. Packing your own pillowcase is a simple way to ensure a peaceful slumber, without weighing down your baggage too much. Plus, if you pack a Silk Pillowcase, you'll keep your skin glowing on holidays too!
5. Avoid using your bed for anything but sleep.
When you're in a hotel room with limited space, it can be tempting to use your bed as a temporary office space or Netflix hangout. But blurring this line can make it more difficult to get into a zone for sleep. Try to use a different part of the room, or even better, head out into your surrounds instead!
6. Take your sleep ritual with you on holiday.
If you've established a pre-sleep ritual to help you wind down of an evening, keep some of these going while you're on holiday. Even if this is just one small thing, it can help signal to your body that it's almost time to sleep. Some good ones that are travel friendly: have a cup of herbal tea or try a soothing meditation.
7. Indulge your senses.
Our sense of smell is powerful and strongly linked to memories and experiences. Packing some familiar scents to take with you on holidays can help ground and calm you, especially if they are ones you often use before sleep. These might be an Essential Oil Blend or our Sweet Dreams Sleep Mist. 
And if all else fails... You can always indulge in a mid-afternoon nap – you are on holidays after all!
Frequent traveller? Need more support for recovering from jet lag or even just sleeping in hotels? Find out more about our Sleep Retreats for Travel Recovery by contacting the team.