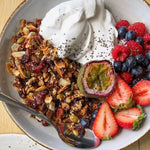 As the weather gets warmer we naturally will reach for cooler foods. Store-bought granolas are so often packed with tons of sugar, making them more of a candy than a healthy breakfast option. This recipe is high in healthy fats which are essential in the production of healthy happy hormones. Starting your day with a serving of plant-based protein and nourishing fats from nuts and seeds will set your hormones on the right track for a stable day of energy followed by a beneficial night's sleep. Paired with some natural coconut yogurt and antioxidant fresh berries is a perfectly balanced brekkie for Spring.
 
Tip: 
I love using COYO vanilla bean coconut yogurt.
Hormone Healthy Granola  
Ingredients: 
1/3 cup coconut flakes 
1/3 cup pumpkin seeds
1/3 cup cashews 
1/2 cup walnuts 
1/3 cup sliced almonds 
3 tbsp flaxseeds 
3 tbsp hemp hearts 
1 tsp vanilla extract 
1 tsp cinnamon 
1 - 2 tbsp pure maple syrup 
1 pinch pink himalayan sea salt 
1/4 cup coconut oil or organic ghee    
Method:
Preheat oven to 165 degrees
Roughly chop the nuts and seeds, by hand or in food processor.
Combine all ingredients in a large bowl and mix.
Move mixture to a baking tray lined with parchment paper. No need to completely spread out the mixture. Chunky bits will be delicious once baked!
Bake for 15 minutes then let cool.   
About the contributor 
Shannon Rosie is a clinical nutritionist, author and previous owner of sugar-free whole food restaurant Rosies in Sydney. Shannon has a passion for helping clients heal from the inside out and believes strongly in using food as medicine. Shannon has also produced a range of gut health and weight loss nutrition programs available from her health and wellness website, 
Living With Rosie
. Shannon has completed a Bachelor of Health Science in Nutritional Medicine from Endeavour College of Natural Health in Sydney and is an active member of the Australian Natural Therapists Association.