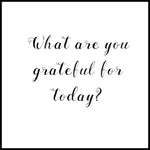 Thanksgiving is a wonderful opportunity to reflect on the year to date, count our blessings, and express gratitude to those that have helped us along the way. 
Whether it's a big milestone, like: receiving a promotion, starting a business, or getting married; or a simple moment of joy, like: listening to your baby giggle, watching the sun rise, or receiving a compliment from a stranger – we all have something to be thankful for. 
In fact, at The Goodnight Co, we're confident that you could come up with at least one thing every day that makes you smile. And you should, because just thinking grateful thoughts is great for your health and wellbeing.
Gratitude is a wonderful attitude. It can improve your awareness, keep you focused, ward off stress, and increase your satisfaction with life. What's more, it can help you to get a good night's sleep.
Thinking positive thoughts and counting your blessing, particularly before bed, can allow you to clear your mind and doze off faster, for a longer and more refreshing rest. In effect, gratitude can be a lullaby for peaceful sleep.  
So what are you grateful for? Don't just think about it this Thursday for Thanksgiving, make gratitude your attitude, and a daily habit. 
Each and every day at The Goodnight Co, we're grateful for being able to help so many people create healthy relationships with sleep, and for the kind notes of thanks we have received on our journey to give more people permission to love sleep