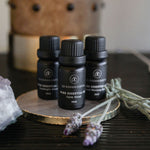 The use of essential oils in aromatherapy has been in existence for over 6,000 decades. It's composed of the study and use of certain scents, usually embodied in certain essential oils or similar ingredients, in order to bring about positive changes in people. It celebrates its roots in antiquity with the use of aromatic oils.
Essential oils don't have to be high-priced, and they can have many benefits. In fact - it has become fundamental for alternative and holistic medicine. It is a form of holistic healing that has been used for centuries to heal the mind, as well as the body. Some people wonder why you might use essential oils when there are already other, more mainstream methods of addressing certain issues. The simple truth is that establishing the use of essential oils as a habit in your ordinary life will help you take some time for yourself, and can even help you with your sleep!

Not sure where to start? Read our guide on some of the most popular essential oils to find out which ones are best for you. 
 

Eucalyptus Oil
Originally native to Australia, eucalyptus trees are now grown all over the world and used for their medicinal properties. Their healing power comes from eucalyptus oil, which is made from the tree's oval-shaped leaves. The leaves are dried, crushed, and distilled to release the essential oil. 
Eucalyptus Oil is typically known for it's anti inflammatory properties, and is great for easing joint pain, and most commonly for helping you breathe a little easier at night! 

Try our Good Morning Blend Essential Oil to reap the benefits of Eucalyptus Oil - combining eucalyptus and peppermint to awaken the senses, mandarin to lift your energy and lemongrass to refresh and revive, you'll feel ready to face whatever the day brings you.
 

Lavender Oil

Lavender essential oil is one of the most popular and versatile essential oils used in aromatherapy. Distilled from the plant Lavandula angustifolia, the oil promotes relaxation and is most effective in treating anxiety and for promotion feelings of calm. However, it has been known to also treat fungal infections, allergies, depression, insomnia, eczema, nausea, and even menstrual cramps. Talk about an all rounder. 

Lavender is also known as the sleepy scent, so is best used at night. The Goodnight Co.'s signature Goodnight Blend prepares your mind and body for a restful sleep by  combining scents of sweet orange and chamomile to soothe the nervous system, clary sage and cedarwood to relieve stress and lavender and sandalwood to induce a deep, healing sleep. 
Cedarwood Oil

Cedarwood essential oil is extracted through the process of steam distillation from the wood pieces of the cedar wood tree, which has the scientific name Juniperus virginiana. 

Used in aromatherapy applications, Cedarwood Essential Oil helps to deodorize indoor environments, repel insects, prevent the development of mildew, improve cerebral activity, relax the body, enhance concentration, decrease hyperactivity, reduce harmful stress, ease tension, clear the mind, and last but not least... encourage the onset of quality sleep. Our Goodnight Blend containing Cedar Wood is best to use if you want to utilise it's qualities! 

If you're still feeling a little clueless about how to use essential oils, try one of our Diffuser and Essential Oil Starter Kits. They're perfect for testing which Essential Oils are best for you - and diffusing is the easiest and safest way to do it.