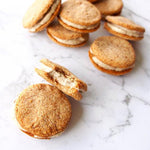 High amounts of sugar before bedtime can impact your sleep, but don't worry, we've got a recipe that's sweet, low in sugar and will do your body a world of good.
These vegan low-sugar cookies come from our friends at Health Food Project and are packed with good nutrients:
Almonds are amazing morsels containing both iron and zinc, both of which are essential for eliminating brain fatigue and balancing mood.
Cinnamon is great because it can aid in naturally balancing blood sugar levels. When blood sugar levels are balanced, your hormones can function in a way that allows for better sleep!
Nutmeg has a calming effect when consumed in smaller doses. According to Ayurveda, a pinch of nutmeg can have de-stressing effects and can be used with a pinch of cardamom for added benefits.
Chai & Vanilla Cream Cookies
(vegan, gluten free, low sugar)
Makes 12 filled cookies (24 single cookies)
Prep time: 30 minutes + soak time
Cook time: 15 minutes

Ingredients

Chai & Cinnamon Cashew Cream:
2/3 cup natural cashews
1 tbs loose leaf chai (we used an organic blend containing cardamon, star anise, cloves cinnamon and ginger)
2 tbs maple syrup
Pinch of salt
Pinch of vanilla
Water
Cookies:
1 cup almond meal
2 tbs coconut oil, melted
2 tbs rice malt syrup
1 tsp pure vanilla
1 tsp cinnamon
1 tsp nutmeg
1/4 tsp baking powder
Method
To make the cream:
Soak the cashews for at least 30 minutes to an hour in plain water.
Steep the chai tea in 1⁄2 cup hot water while the cashews are soaking.
Pour the chai into a blender, along with the drained cashews and maple syrup. Blend until smooth and creamy and once combined, chill in the fridge.
To make the cookies:
Preheat oven to 160ºC. Combine all ingredients in a bowl and mix thoroughly.
Place mixture between 2 sheets of baking paper and use rolling pin to roll to 1mm thickness.
Use a cookie cutter to cut out an even number of cookies. Place on a baking tray and bake for approximately 10-15 minutes until slightly golden. Leave to cool completely.
Once cooled, pipe cashew cream onto one cookie, and top with a second. Continue until all cookies are filled. Enjoy.
Browse our Sleep Eats recipes to help nourish your body and rest easy.