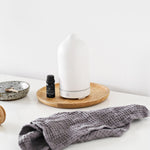 Essential oils have been filling the rooms of households for decades. Whether it's the nostalgic scent of pure lavender drops to soothe a crying baby or the burning of tea tree oil near the bbq as a natural insect repellant, most of us will find some kind of aromatic connection to our childhood.
And, thanks to a recent resurgence, essential oils for aromatherapy are making a comeback in a BIG way, helping to naturally treat a range of symptoms including stress, insomnia, anxiety and brain fog. BUT before you dust off your mum's old oil burner and make way for a #holistic household, we might persuade you to upgrade to an ultrasonic diffuser instead. 
There are two main ways to aromatically disperse essential oils around the house, through heat and ultrasonic vibration. Heat, most commonly known as oil burning (think tea-light burner), works by placing essential oils and water into a bowl above a candle which then heats the liquid and evaporates it into the air.
Ultrasonic diffusing, on the other hand, uses vibration at an ultrasonic frequency (inaudible to the human ear) to agitate water blended with essential oils causing a separation of its particles. When these particles are separated, they become negatively charged, transforming this liquid blend into a light mist! For those less interested in the science lesson, the most significant difference between these two methods is that one uses heat to evaporate into the air and the other does not. Now for the persuasion part... 
3 Reasons Why You Should Choose to Diffuse
When it comes down to how we disperse essential oils, personal preference will largely determine your choice, but after years of research, here are the three main reasons why The Goodnight Co. team think you should always choose to diffuse!
It's Safer
Anyone with a toddler, long-tailed pet or, a particularly clumsy partner can vouch for us here when we say that ANYTHING burning on tables is a simple no-goer. While there's something seriously wholesome about a flickering tea-light candle, we can't think of anything less relaxing than being on edge about any burning mishaps!
Burning Can Ruin Your Oils!
Another sciency moment, but did you know that heat can destroy the natural make-up of your essential oils? Overheating can cause your oils to over burn, changing the natural release of positive molecules and affecting the therapeutic benefits of your oil. In addition to the burning of oils, heat can also speed up your evaporation process meaning you'll be finding yourself using more essence over a shorter period of time.
It's Not as Efficient
We don't know about you, but tea lights seem to burn out in the blink of an eye, meaning you'll be up much more frequently to swap out those darn candles! Burners are also known to leave behind an oily residue, which can mean an unnecessary waste of your precious blends.
Make Sure Your Blends are Pure 
Unfortunately due to looser regulatory standards, not all essential oils are as pure as they are made out to be. To avoid burning anything synthetic into your air, always purchase from a reputable source, check the bottle for naturally sourced ingredients (avoid anything that is listed as a fragrance), and look for oils with a 100% pure title. Pure blends are usually bottled in dark jars to help preserve the quality of the oil as heat and sunlight can damage the molecule quality. 
If we're going by the bottle, pure blends may seem a little more expensive than the cheaper ones you'll see at a dollar store, BUT as they're a higher concentrate, you'll require less to diffuse over time, meaning you'll save in the long run!
Essential Oils for Your Every Day
Now that we've eliminated any diffusin' confusion, let's take a look at some of our favourite blends and their aromatic purposes:
Goodnight Blend 
With sleep on our mind (all the time 😉 ) we can't go past our dreamy Goodnight Blend. Like a warm hug for your senses, fill your room with the soothing scent of sweet orange and chamomile that work together to calm the nervous system. White frankincense and cedarwood help relieve stress and lavender invites a deep sense of relaxation, readying the body for rest. 
Good Morning Blend 
After a restful sleep, it's time to put your best foot forward towards the day ahead! Our refreshing Good Morning Blend combines eucalyptus and peppermint to awaken the senses, mandarin to lift your energy and lemongrass to help eliminate anxiety, meaning you'll step into the day with a cool disposition. 
Calm Blend 
Stress. As we work to juggle EVERYTHING, life can sometimes feel a bit like watching a hot pot about to boil over! Naturally eliminate that "AHH!" voice in your head with our essential oil Calm Blend. Specially curated to ease the mind, this blend includes an uplifting mix of lavender and mandarin, as well as anxiety alleviating ylang-ylang and the ever-soothing aroma of chamomile.
Ritual Blend
We're all about 'you ooze what you diffuse'! Create a rich daily aroma with our Ritual Blend. Designed to enhance your mood and centre your mind, this blend is loaded with hinoki wood to create a sense of calm, patchouli and geranium to ground and comfort, as well as sweet orange and bergamot to help ease digestion. Work-from-homer's, this one's for you!
Immunity Blend 
As we head into the cooler months, now is the best time to make the most of Mother Nature's immunity boosters. Jammed packed with seven of the most renowned anti-bacterial, cleansing and anti-inflammatory essential oils, our rich Immunity Blend smells just as good as it makes you feel! Think fresh peppermint, zesty lemon and smooth rosemary to name a few! 
Okay okay, with all these reasons to diffuse AND a shopping cart full of our favourite essential oils, now might be the best time to remind you that we've got kits that are specifically designed to make your life easier (they include a bulk-buy discount too)! Available in three colours, our Ceramic Diffuser & Essential Oils Starter Kit comes loaded with three of our cult classic Pure Essential Oil blends, effortlessly equipping you with all the basics you need to cover the early AM to your unwind at night!