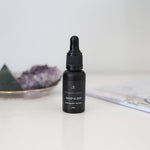 Who better than to take our brand new sleep supplements for a spin than The Goodnight Co. founder Danielle Knight. We gave Danielle our 'Deep Sleep' Homeopathic Tincture to take home and put to the test.
I am generally a good sleeper, however since having children my sleep has changed, albeit reduced during certain times. I've embraced those changes in my life by making sure I have a good night time routine to help set me up for the best night's sleep possible.
Having said that, there are times when even the best laid plans go astray! This is when I need a little extra help. On the occasions I find myself lying bed hoping to go to sleep, or when my sleep has been broken, I have been using The Goodnight Co's 'Deep Sleep' Homeopathic Tincture.
The natural deep sleep tincture is formulated to aid uninterrupted sleep and to help build regular sleep patterns. Tinctures are liquid extracts made from herbs that you take orally.
It's really easy to use – I take 8 drops of the tincture directly under my tongue. It enters the bloodstream much more directly than by any other means, and this means that the action in the body is much quicker. 
I find the tincture quite warming and soothing. It really helps me drift off to deepest sleep and I always wake the next day feeling well rested.