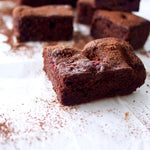 Our friends at the Health Food Project have got us covered on World Chocolate Day.  
This time they've come up with a chocolate brownie that tastes absolutely incredible but somehow still has so little sugar that you can happily enjoy it as a night time snack without interrupting your sleep.  Genius!!
Chocolate Chunk Brownies
We don't know about you, but as soon as the weather gets cooler, we love turning the kitchen into a mini bakery. Not much beats the smell of something delicious in the oven, especially when it's frosty outside and you know you have nowhere else to be.
We have joined forces with our friends at @thegoodnightco to bring you a quick and easy winter warmer. You can totally sub the flour, almond milk and coconut sugar for whatever you've got in the pantry or fridge. This recipe is best when juuuust cooked, the brownie is nice and fudgey and the chocolate & berries add some extra flavours!
VEGAN | LOW FODMAP | GLUTEN FREE
Not sugar free, but with ó a cup of coconut sugar in the entire recipe, and less that 6 grams of sugar per serve, it's definitely a healthy treat!
Serves: a generous 12
Time: 35 mins (20 mins baking, 15 mins prep)
• 40 grams cacao powder
• 80 grams almond meal
• 80 grams gluten free flour (oat, buckwheat, sorghum all work well)
• 2 teaspoons baking powder
• 1/2 cup coconut sugar
• 1/2 cup dark chocolate, cut (85% Lindt works well)
• Handful frozen raspberries (optional)
• 1/2 cup coconut oil
• 1/2 cup almond milk
• 2 tablespoons vanilla
• 2 tablespoons of either chia / flaxseed
How to:
1.  Grind chia or flaxseeds into meal and pop into a small bowl. Add 6 tablespoons of water and set aside. Grinding ensures that your brownie has that smooth cake like finish (we can confirm that they turn out 110% better when you grind)
2.  Preheat oven to 170 degrees C, or the setting you normally use the bake cakes - fan assisted ovens will require a lower setting. Line a baking tray with paper and set aside.
3.  Place the dry ingredients – (cacao, flour, almond meal, baking powder, coconutsugar, chocolate) into a large bowl and mix until well combined/no almond meal or flour clumps are remaining.
4. In a second bowl, mix together the coconut oil (melted works best), vanilla, almond milk and your chia or flaxseed mix. Pour this into your flour mix and combine.
5.  Once combined, pour into prepared baking try and top with handful of berries.
6.  Pop into the over and bake for 20 – 25 minutes. Leave to cool completely prior to slicing OR eat right away, topped with extra berries & a side of hot chocolate. Just be wary that your brownie will be a bit more of a pudding texture.
7.  Enjoy!