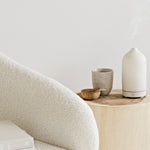 On-the-go, at home, in the shower - you name it! Want to make the most of your essential oils? Read on for 5 fantastic ways to experience the benefits of aromatherapy! 
Our Co-Founder and Sleep Expert, Shea, shares her favourite ways to use essential oils.
Fun Fact! Shea's favourite essential oil is The Goodnight Co.'s Morning Blend. She has this diffusing at home and in our office on the daily. It's fresh citrusy aroma makes it the perfect staple for any home (with the added benefit of uplifting and energising your mood!)
5 Ways To Use Your Favourite Essential Oil
1. Diffuse
The OG, one of the most popular (our favourite!), effective and safest ways to enjoy aromatherapy. To diffuse your essential oil, simply place a few drops in the diffuser with water and turn it on.
Shea's top tip (and something not widely known, the best part about diffusing versus burning essential oils is that the integrity of the oil is maintained - safer for you and more benefits - win win!
2. Topically
Apply your oil directly to your pulse points, like wrists or temples. You can do this using a purposefully designed Essential Oil Roll On, or by dotting a few drops directly from the bottle onto your skin, and rubbing together. 
The benefit? You can carry the amazing effects of essential oils with you all day, and reapply as needed. 
3. Inhale
Potentially not as widely known, this is our teams favourite way to use the essential oils in our range! Put a few drops of your favourite oil in the cupped hands and breathe it in. The higher concentration means you have an instant pick-me-up or lift, and you can repeat this as required. 
Inhaling Essential Oils causes the olfactory bulb to transmit information to the limbic system of the brain, helping to control sleep, mood and energy levels. 
4. Bathe
Have you ever used a bath bomb and basked in the aromas? Adding Essential Oils to your bath-time routine will have the same effect - you can make every bath or shower feel like a trip to the spa. Add a few drops to your bath as the bath is running to inhale the beautiful scents in the steam. 
Sound great, but don't have a bath? We are here for you, shower people! You can create the same effect by popping a wet wash cloth on your shower floor and dropping a few drops of essential oil into it. The steam from the shower will cause the Essential Oil's aroma to flood your senses. HEAVEN!
5. Laundry
One of the best ways to use a blend, especially the Goodnight or Calm Blend (in our humble opinion!)
When washing your bed linen - or anything really - simply add a few drops of your favourite essential oil to the washing machine to wash the scent right through. You will do it once, and then be hooked on the benefits. Laundry has never smelt quite so dreamy.