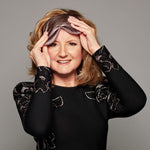 Arianna Huffington is not only a bestselling author of Thrive, and founder of the Huffington Post; she is tackling the importance of sleep.
We love sleep so much we founded our business on it! We've joined forces with Arianna and the Huffington Post to highlight importance sleep is in our lives.
Our sleep journey started back in 2013 when we both were struggling with our newborns sleep routines, we set out to create beautiful products that helped us sleep, helped with our non-existence beauty routines, and that added a bit of luxury to our very busy sleep routines. We cherished many things in our day, but we both loved jumping into bed after the craziness of juggling work, kids and life. We would chat about our sleep rituals and from there our sleep dream became a reality. 
Arianna also shares our love of sleep so much she's dedicated an entire book to highlight that we're in the midst of a sleep deprivation crisis and how this impacts the rest of our life. The #sleeprevolution looks at how renewing our relationship with sleep can we take control of our lives. We're so on board for 'Sleeping our way to the top' and believe the importance of a sleep routine and the benefits of #sleepingonsilk.