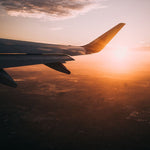 With the school holidays ending, now could be the perfect time to think about how you'll help your body recover, reset and ease back into your regular sleep routine after travel. 
Alexx Stuart has made the commitment to building her life around a low tox movement that's non-judgmental, positive and based around a love for instigating a holistic change in others. Living her life by the equation: "healthier people + healthier planet = the holy grail of wellness" we feel her values align strongly with our passion for health, happiness and sleep. 
We've teamed up with Alexx to talk about how you can maintain a commitment to low tox living - even while travelling! 
 1. Activate a batch of almonds/nuts with a couple of different flavours to keep things interesting and give yourself a little pre-nap snack. 
2. Pack a few herbal tea bags - prepare ahead and BYO!
3.  Exercise as much as you can – even if you look like an idiot! Every couple of hours try a few scissor twist jumps, lunges, plain jumps, squats and if it's a 747/ A380, a bit of downward dog time in that back corridor near the loo's. Yes, people laugh, but I'm feeling good at the end of the flight, despite the tiredness, and that to me is all that matters. 
4. Drink minimal alcohol. A glass of wine to relax and unwind with a movie is fine, and if you're a spirits drinker, switch the sugary/juice mixer for soda water and fresh citrus as the mixer.
5. Use an eye mask and ear plugs to block out the surrounds and get some deep sleep – even if it's just a couple of hours at a time.
6. Get yourself some magnesium oil spray. It will help you sleep with a few sprays to the feet and protect from the pins and needles and cramps you can get while sitting still for lengthy periods or sleeping in a contorted sitting position.
7. Try, awkward as it is with those little basins, to splash your face with water and moisturise with coconut oil or your preferred natural moisturiser. You'll feel great for it. Our body craves 'back to body' experiences like water, grass, sun to balance itself. Water is the only one we have up in the air and it really helps.
8. Once you land, find a patch of grass or sand and hang out barefoot (weather permitting) for at least 10 minutes. Earthing yourself charges your body with good energy, boosts circulation and reduces foot swelling so quickly, you won't believe just how much and how fast, until you try it! 
9. Have an epsom salts bath (pack your salts in case you can't find any on arrival anywhere).
10. Get direct sun if weather permits. Don't even wear sunglasses. 10 minutes is all your body needs for the 'Yep, it's day time' message.