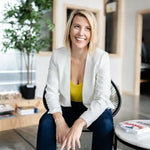 Do you have intentions to reduce your stress levels this year? To slow down and focus on improving your sleep? Have you considered incorporating yoga into your daily routine? Yoga practice is a fantastic way to reduce stress and in turn, improve sleep. If you are new to yoga, then this podcast is perfect for you.
Join Shea and owner of Brisbane-based yoga mat manufacturer Yogat, Carolyn Cook who talks everything yoga, what kinds of yoga are best for sleep and where to start for those new to the practice.
For more on Carolyn: Yogat.com.au   Insta: yogat_au
Where Can You Listen To The Episode?