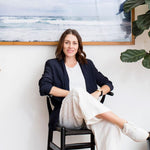 Chances are, you've thought these five words before: "But when things slow down..." Maybe you've even added some more words at the end: "But when things slow down... I'll have more time to myself... take that holiday... I'll have better sleep..." Thoughts like those point to a problem: You're too busy. You're running yourself into the ground. And unfortunately, your sleep is suffering. You can't stumble into having a balanced life, it's something that has to be practiced.
In this week's podcast Shea talks with Jacqui Lewis, founder of The Broad Place a global school for creativity, clarity and consciousness. Shea and Jacqui talk about why slowing down is important and discuss practical ways you can slow down, a great listen if you're new to meditation, or find meditation challenging.
For more on Jacqui thebroadplace.com.au  or Insta: thebroadplace
Where Can I Listen To The Podcast?