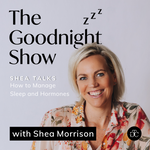 We've made it to the final episode of Season One of The Goodnight Show! Stay tuned to the end of today's episode to get a sneak peak of what to expect in Season Two. Statistics are showing that 80% of women and teens are suffering from hormonal imbalances so it is definitely a topic which we know will relate with many women - us being one of them. Tune in today as we talk about how to manage sleep and your hormones... it's one for all ages!
Listen now:
Links we talked about:
If you want to get you sleep health routine on track, we are offering our podcast listeners 50% off our online guide, 10 steps for 10 days. This eBook is the ultimate guide for those who need to reclaim their sleep and reclaim your best life possible. Use the code 'PODCAST' at checkout to get this guide for $5 and start your 10 day routine now.