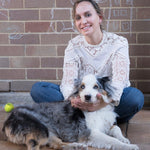 "There's no denying the innate wisdom of the botanical world". This couldn't be more true for our next guest, Jessica Bragdon, co-Founder of Koala Eco who has built a game-changing range of household and personal care products around natural plant-based ingredients and Australian pure essential oils. Jessica and Shea delve into the benefits of natural cleaning products for your wellbeing and sleep and gave industry tips for Spring Cleaning your space the natural way!
Where can you listen to the episode? 
If you want to get you sleep health routine on track, we are offering our podcast listeners 50% off our online guide, 10 steps for 10 days. This eBook is the ultimate guide for those who need to reclaim their sleep and reclaim your best life possible. Use the code 'PODCAST' at checkout to get this guide for $5 and start your 10 day routine now.