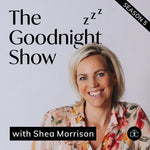 It's R U OK? Day and as a little gift to our sleepyheads, we're sharing a meditation by Carlee McGee designed to "calm". There's never been a more important time to find calm in the chaos of our lives, with the Australian Institute of Health and Wellfare finding 20% of Australian adults experienced a mental illness in the past 12 months. Whether you're facing anxiety or depression, or you just need a little bit of zen, tune into this episode to create calm with us!
Where can you listen to the episode? 
If you want to get you sleep health routine on track, we are offering our podcast listeners 50% off our online guide, 10 steps for 10 days. This eBook is the ultimate guide for those who need to reclaim their sleep and reclaim your best life possible. Use the code 'PODCAST' at checkout to get this guide for $5 and start your 10 day routine now.