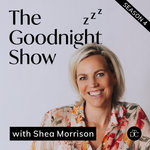 When we type 'being healthy' into google, you're usually met with search results which talk about lifestyle, diet, being fit and losing weight but you rarely see 'getting a good night sleep'. In this episode, we jump into why sleep is considered the third, missing pillar of health and why it's just as important as getting proper nutrition and regular exercise!
Listen now:
Links we talked about:
If you want to get you sleep health routine on track, we are offering our podcast listeners 50% off our online guide, 10 steps for 10 days. This eBook is the ultimate guide for those who need to reclaim their sleep and reclaim your best life possible. Use the code 'PODCAST' at checkout to get this guide for $5 and start your 10 day routine now.