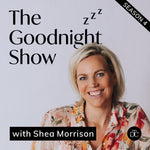 It's been a long 12 months. Between navigating a pandemic and attempting to maintain as much normality in life as possible, for many, it may even be one of their toughest years to date. With added changes in routines and peaks in stress, it's not uncommon to encounter bouts of insomnia and anxiety, but as we start to see things ease back to normal, could you be holding onto negative sleeping habits that affect your overall wellbeing?
Listen now:
Links we talked about:
If you want to get you sleep health routine on track, we are offering our podcast listeners 50% off our online guide, 10 steps for 10 days. This eBook is the ultimate guide for those who need to reclaim their sleep and reclaim your best life possible. Use the code 'PODCAST' at checkout to get this guide for $5 and start your 10 day routine now.