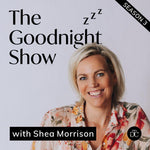 Did you know your bedding can sometimes be the culprit to your allergic reactions? Being home to dust mites, mould and mildew makes suffering with these symptoms harder to fall asleep and stay asleep at night. In this episode, Shea discusses her 5 top reasons as to why investing in good quality hypoallergenic silk sleep products isn't just an aesthetic investment, it's an investment on the quality of your sleep and health.
Listen now:
Links we talked about:
If you want to get you sleep health routine on track, we are offering our podcast listeners 50% off our online guide, 10 steps for 10 days. This eBook is the ultimate guide for those who need to reclaim their sleep and reclaim your best life possible. Use the code 'PODCAST' at checkout to get this guide for $5 and start your 10 day routine now.