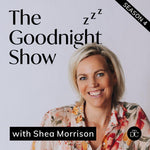 The days are a lot shorter, and a lot cooler as we make our way into Autumn and leave the long, hot days of Summer behind us. As the seasons move from Summer to Autumn, it creates the perfect setting for a sense of comfort, warmth and reflection... not to mention the perfect season for sleep! But as the seasons change around us, so does our sleep habits. In this episode, Shea talks through her top tips for navigating these changes so you can make the most of the change of weather and pace, and not fall victim to the Cooler Blues. 
Listen now:
Links we talked about:
If you want to get you sleep health routine on track, we are offering our podcast listeners 50% off our online guide, 10 steps for 10 days. This eBook is the ultimate guide for those who need to reclaim their sleep and reclaim your best life possible. Use the code 'PODCAST' at checkout to get this guide for $5 and start your 10 day routine now.