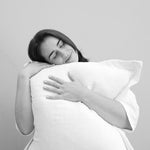 Did you know that according to Feng Shui principles, the bed is the most important piece of furniture in your home. The bedroom should be a place of rest, romance, and relaxation—and nothing else.
Since we tend to spend upward of eight hours a day in this sacred space, we should try to maximise its feng shui to its fullest potential. In today's episode, Shea is joined by Feng Shui specialist and Interior Designer Lucy Turner from Citrus Jing to talk all things Feng Shui in the home and bedroom and how it can affect sleep.
Where can you listen to the episode?