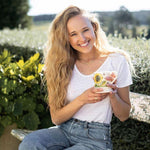 "Let thy food be thy medicine and thy medicine be thy food" - something that could not have been truer for our next guest, Shannon Rosie. Have you ever wondered if eating before you drink to soak up the alcohol was a myth or if it was a fact? How about the effects on carbonised drinks? Maybe you're looking for a way to enjoy your life without feeling sick the next day?
Overcoming years of health battles, Shannon Rosie decided to take her health into her own hands. After publishing her book 'Conscious Cocktails', Shannon and Shea delve deep into what actually happens to your body when you drink alcohol, and how you can still enjoy your favourite drinks, without the nasties.
Shannon talked about her favourite winter conscious cocktail... perfect for immunity! Join our Facebook Group to find out what the recipe includes! 
Tune in to find out!
Links we talked about:
If you want to get you sleep health routine on track, we are offering our podcast listeners 50% off our online guide, 10 steps for 10 days. This eBook is the ultimate guide for those who need to reclaim their sleep and reclaim your best life possible. Use the code 'PODCAST' at checkout to get this guide for $5 and start your 10 day routine now.