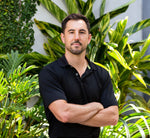 Have you heard of bio-hacking to better your sleep? Did you know you can hack you daytime routine to best improve your sleep at night. In today's episode, Shea is joined by Richard Game, a Functional Medicine Practitioner and Physiotherapist to discuss hacks to best improve sleep.
Richard's approach to bio-hacking for sleep starts in the AM from the moment of waking and sticking to a routine. We love his approach of creating simple habits, starting small to make big changes. Richard is also the General Manager of BEYOND, the health and wellness centre opening early next year by Total Fusion that is dedicated to helping their members optimise their health and feel their best everyday. Learn more about bio-hacking and BEYOND in today's episode.
Where can you listen to the episode?