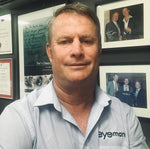 What is the major tell of a poor night's sleep? Dark circles, puffy eyes and drooping eyelids are signs we've come to recognise and correlate with poor sleep. In today's episode, we're joined by Optometrist Patrick Gerry to talk all things eyes! Patrick and Shea discuss how sleep and eye health go hand-in-hand; encouraging better eye health with good sleep and using our eyes to get better sleep - it's a win-win!
Where can you listen to the episode? 
If you want to get you sleep health routine on track, we are offering our podcast listeners 50% off our online guide, 10 steps for 10 days. This eBook is the ultimate guide for those who need to reclaim their sleep and reclaim your best life possible. Use the code 'PODCAST' at checkout to get this guide for $5 and start your 10 day routine now.