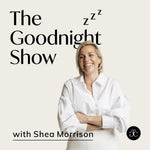 The Goodnight Show brings you 'The Sleep Diaries', a segment to kick off each season and answer all your sleep questions! Shea will answer 10 questions submitted by our Sleepyheads in The Goodnight Co Community Group and via The Goodnight Co's Instagram, to keep you in the know and assist you on your journey to a better night's sleep. Tonight Shea covers questions you have around Sleep Apnoea, oversleeping, napping, menopause and more!
Where can you listen to the episode? 
If you want to get you sleep health routine on track, we are offering our podcast listeners 50% off our online guide, 10 steps for 10 days. This eBook is the ultimate guide for those who need to reclaim their sleep and reclaim your best life possible. Use the code 'PODCAST' at checkout to get this guide for $5 and start your 10 day routine now.