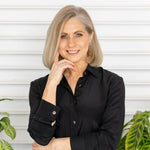 Are you going through perimenopause and wondering if you will ever feel like your thriving again? It's hard to thrive and be positive when their is so much stigma around this stage of life for women. So what if we ditched the stigma and see this next stage of life as something beautiful and exciting?
In today's episode, Shea chats with Health Coach and Personal Trainer Tania Dalton about the Daily Habits to practice to optimise health and happiness throughout this time of your life. It's time to drop the negative notion of menopause and see it as a positive transition to a new chapter of life.
What Can You Listen To The Episode?