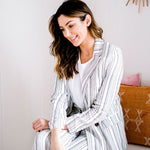 We do so much to make our skin look great in the morning. Many of us would follow a skincare routine and our bathroom counters are likely cluttered with everything from 10-step skin care to the most recent makeup haul and products promising to decrease wrinkles and brighten complexion. But what about good old fashioned beauty sleep. Sleep is one of the main pillars of health, and if we aren't getting enough of it, our skin reflects that. Did you know sleep is when some of the most important internal — and epidermal — recovery takes place!
In this episode Shea is joined by Registered Nurse and Dermal Therapist Madilyn Wolens also known as The Funtional Nurse. Tune in as they cover the benefits of a good night's sleep and how this affects the skin.
Where can you listen to the episode?